13 Reasons Why Camojojo Trace for Nature Trail Camera  
By Matthew |
17
May 2023 |
0
Comments
Your trail camera is not delivering enough if it's sending only the cover. The Camojojo Trace Nature Camera sends the whole video & offers much more which makes it an ideal pick.
What could have been more incredible than witnessing nature's breathtaking moments as they happen? Camojojo Trace - Nature Trail Camera opens the gateway to nature in your cell phone via instant video sending and live streaming.
Whether you wish to catch the sight of wild animals on your property or are just curious about the wildlife in their natural habitat, a nature camera allows you to capture all of it in real-time, causing zero disturbance.
But how do you choose the right nature camera? Although it depends on your needs, various factors, including budget, quality, and high-tech features, are crucial considerations that help you make an informed buying decision.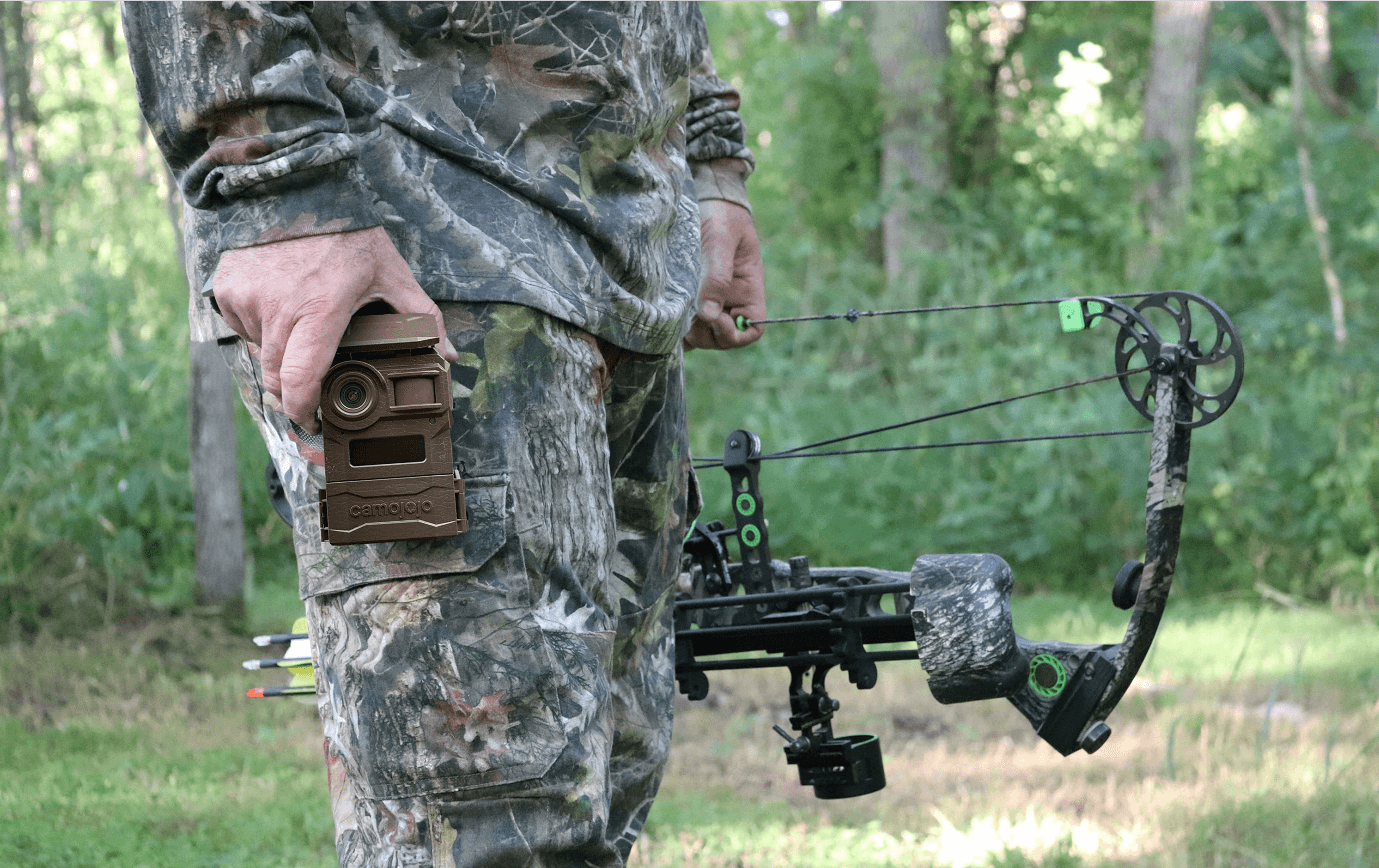 Let's explore why Camojojo Trace would be the best bet as a trail camera.
Features that Make a Trail Camera Outstanding
1. Instant Video Sending & Playing
With the Camojojo Nature Camera instant video sending and playing, you can stay connected with nature without any interruptions. The feature makes it ideal for hunters to track up-to-the-minute updates on their potential prey.
Whenever the camera is triggered, you are virtually transported to the wilderness to have the first-hand experience of observing exotic animals such as deer, elk, and even lions. This seamless connection with nature allows wildlife researchers to capture high-quality video footage and study animal behavior in real-time without requesting HD playback.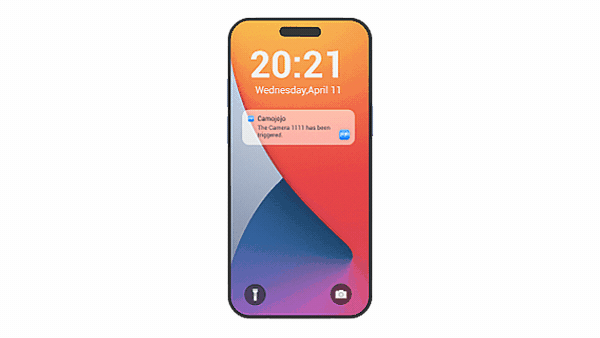 2. Real-Time & Clean Live Streaming
Camojojo Trace Camera erases all unnecessary details, such as data regarding battery, aperture, etc., and sends a clean live feed on the user's mobile phone.
The crystal clear live stream allows nature enthusiasts to observe the fascinating videos of exotic animals in the cleanest way possible. Moreover, HD streaming lets hunters spot and analyze the prey's movement accurately on their mobile phones as if they are at the location.
Not to mention, real-time clean streaming is great for landowners who want to keep a watch on wildlife movements near their property.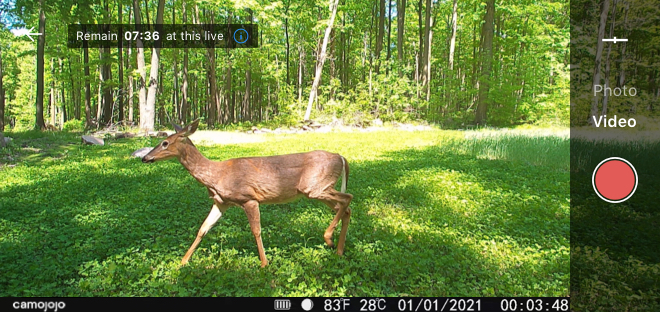 3. Easy Setup
NFC Equipped: It's essential to connect the cellular camera to the phone before using it. Usually, users need to scan the QR code to link; however, Camojojo has the NFC feature that connects your phone with the camera quickly, making the setup as seamless as possible.
Auto-Mode: The auto-mode of the Camojojo Nature camera automatically switches to Eco-mode when it's not triggered. Despite transitioning to power-saver mode, it keeps sending videos and photos in real time, so you won't miss a single animal movement.
The lesser the battery wastage, the more you are in touch with the wildlife without worrying about the battery life.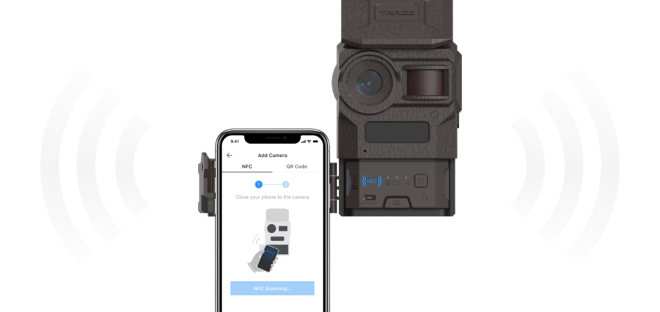 4. Precise PIR & 0.02-Second Trigger Speed
Suppose you wish to track lions or deers only; the rest of the triggers will be a waste of time. Camojojo's precise PIR ensures little to no false triggers that help you receive accurate recordings of your prey. Similarly, precise PIR saves you from the hassle of going through all the fruitless recordings with no animals in them.
The precise PIR and lightning-fast 0.02-second speed allow researchers to maintain accurate recordings of wildlife monitoring, which greatly helps them in wildlife management strategies.
5. App's Album & Community
If you love to keep recordings of wilderness, you must want to share them with fellow nature lovers. Camojojo Trail Camera allows you to invite friends to add or view albums, and the community feature helps you to connect with those who are interested in wildlife conduct and behaviorism.
The community is an effective tool to connect with other wildlife researchers or conservation organizations to collaborate on research projects. Moreover, it is equally beneficial for zoologists or botanists who don't have formal training in wildlife research.
6. Exceptional Battery Life
Imagine visiting the trail camera location twice a month because it keeps running out of power; indeed a deal breaker. Camojojo Nature Camera works in eco, auto, and boost modes, which users can switch between based on their recording needs.
The exceptional battery life saves you from hefty round-trip costs, allowing you to stay in touch with the wildlife from the comfort of wherever you are. Moreover, you can also connect the camera to Camojojo's solar panel and enjoy a non-stop power supply with double efficiency and battery life.
7. Smart Identification and Mapping
Smart identification and AI tagging make animal recognition effortless for those who want to track animal behavior in an organized manner. The smart identification feature tags and categorizes each animal into groups, such as bears, deer, lions, etc., which help you track and observe each animal separately in the app.
The complex mapping system enables hunters to map out their hunting area and pin key points of interest throughout the property to plan the hunt precisely. Moreover, the mapping helps track the migration-pattern and other population dynamics, enabling ecologists to monitor the impact of climate changes on wildlife.
8. Incredible HD Quality
Bigger animals are no problem, but when it comes to observing smaller animals, birds, and especially insects, the HD Quality matters a lot. The 720P/1080p optional resolution of the Camojojo Trail Camera is suitable for researchers and those who study insects specifically, allowing them to capture clear recordings of insects, arthropods, invertebrates, etc.
Moreover, 80-foot night vision and cutting-edge image sensors provide sharp 3K photos and 1080p videos, ensuring excellent nighttime photography even on the darkest nights.
More Amazing Features: What Else Should You Look for in a Nature Camera?

9. Foldable Antenna & Flexible Holder
The foldable antenna and flexible holder of Camojojo provide versatility, ease of use, and optimized connectivity in remote locations. The most common issue wildlife observers deal with is the poor reception of trail cameras.
The foldable antenna enhances the reception, ensuring a clear signal to maintain the connection with nature even from the remotest of locations. It makes the camera beneficial for conservation organizations and researchers who aim to monitor isolated, rare or endangered animals in their habitat.
Moreover, the flexible holder can be easily attached to a tree or any other spot in the field, so you can ensure the camera is mounted in a safe, hidden and cool location.
10. Built-in Storage & SIM Card
The 32 GB built-in memory card of Camojojo Nature Cam eliminates the risk of incompatibility with various memory card types. The camera's intelligent design deletes old and irrelevant photos/videos as it reaches maximum storage.
It provides smooth and uninterrupted storage for a seamless monitoring experience for game tracking and record keeping for preservation purposes. Moreover, a built-in SIM Card is a breeze, as you don't need to buy a separate SIM card. All you have to do is buy a data plan and use it.
11. IP66 Waterproofing
IP66 waterproofing improves the longevity of your camera by protecting it from rain, snow, dust, and other environmental conditions.
The high-grade IP66 material protects the device from rain, dust and harsh environment, allowing you to capture the best of nature from your backyard and track your game precisely, even when the weather is not so favorable.
It helps build an uninterrupted connection which is highly beneficial for those who aim to monitor the endangered species and the impact of surroundings on wildlife.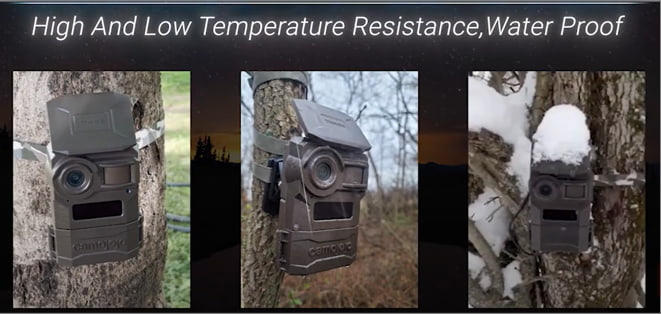 12. Uninterrupted Performance in All Weather Conditions
The Camojojo nature camera is designed to operate in extreme temperatures as it records equally well between -68 to 140 degrees Fahrenheit, making it the most resilient trail camera for use in a broad range of climates.
The feature is a must-have for ecologists and wildlife biologists to study animal behavior and dynamics in different weather conditions. Similarly, it is equally beneficial for hunters who wish to determine the ideal time for hunting.
13. Low-Glow LED Flash
This feature of the Camojojo Trail Camera emits a subtle light that helps capture HD images and videos without spooking or alerting the wild animals. It makes the Camojojo ideal for nature enthusiasts, which allows them to capture the wildlife in their natural habitat without causing them any trouble.
Data Plan & After Sales Support
Camojojo Trace - Nature Trail Camera offers a flexible and affordable monthly plan so you can stay connected without worrying about your budget. Here is a breakdown of the monthly plans.
Data Plan Monthly
| | |
| --- | --- |
| Basic | $4.99 |
| Elites | $7.99 |
| Premium | $11.99 |
Finally, Camojojo provides after-sales support and a two-year warranty covering any camera defects or malfunctions so you can fully enjoy its features and capabilities.
Key Takeaways
From live streaming to trigger speed and convenient data plan, Camojojo Trace Camera and App is an ultimate duo that lets you record, monitor and share wildlife with ultimate ease and convenience.
Considering its state-of-the-art features, the camera is perfect not only for hunters but also for conservation organizations, nature lovers, as well as for those who want to keep an eye on their outdoors to be safe from intruders, and for those who simply wish to capture nature in its true essence.
Leave a Reply
Your email address will not be published.Required fields are marked. *