4 Wireless Game Camera
By Steve Rinella |
08
May 2023 |
0
Comments
Upgrade your hunting strategy with wireless game cameras, allowing you to stay connected to your hunting grounds and track game more effectively.
Game cameras have experienced an evolution with technology like the rest of the world. Long gone are the days when hunters needed to stay with the cameras. The advent of wireless game cameras allows a more flexible hunt. Hunters can connect the cameras to their mobile phones and get live views of the wild. These wireless trail cameras are either connected via WiFi or Cellular Networks. Follow us in this article as we explore the functionalities of four wireless game cameras.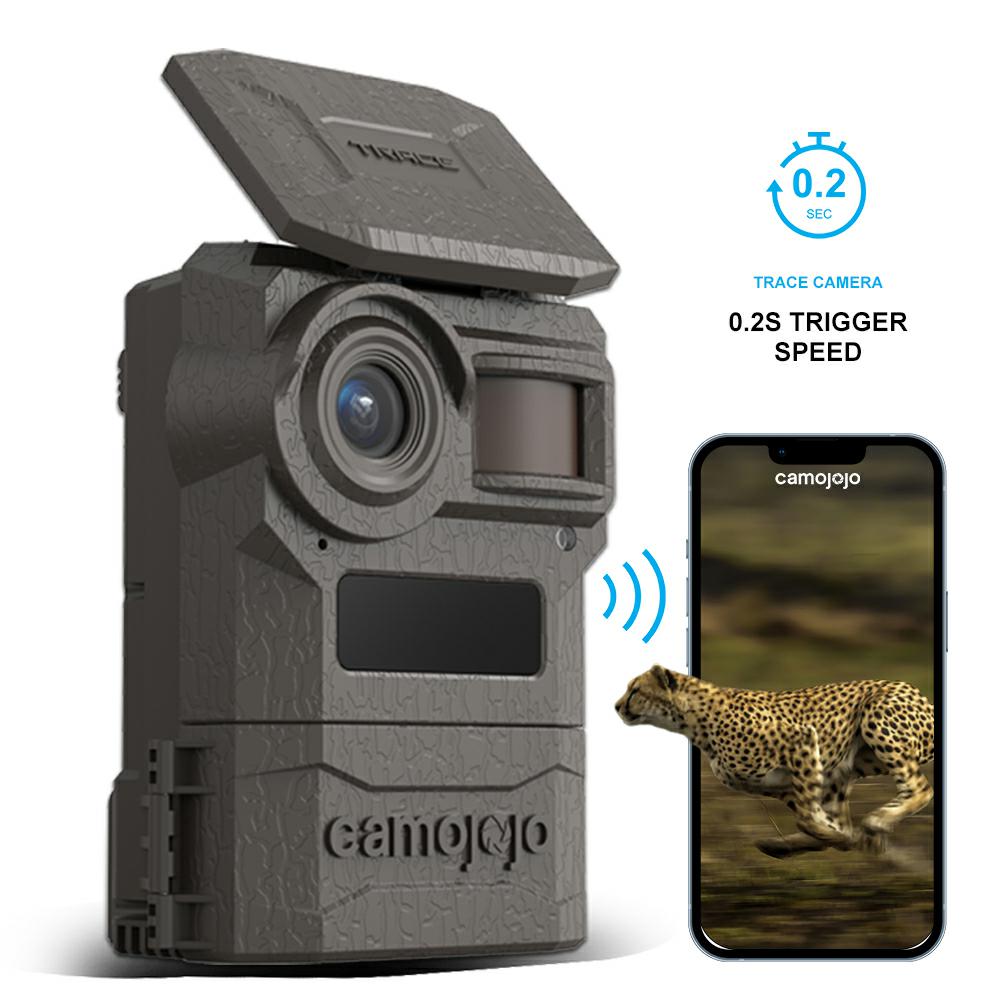 The Camojojo Trace Game Camera is a high-quality, affordable camera that can be used for various purposes. It's the perfect option for hunters looking to monitor their property or track wildlife activity in their area. The camera also has night vision capabilities with a camera quality that produces the best images and videos at 3k and 1080p qualities.
The camera uses PIR sensors, which help detect the animal's presence. The use of PIR sensors also minimizes loss of power because the camera only becomes active when there is something within its detection range. This implies that the camera will not be capturing empty shots.

The Camojojo Trace Game Camera is powered by a rechargeable battery, which can be charged using either the included USB cable or an external solar panel. The camera can be obtained with a Camojojo solar panel that attaches to its back and charges the battery while in the field.
The Camojojo trace game Camera has other unique features that make it an excellent choice for hunters and wildlife enthusiasts. These include:
Live view: This feature lets the hunter see the wild from his phone or computer. The live view gives more comfort as the hunter can go about daily while monitoring the woods.

Time-lapse: This allows you to set up a sequence of shots taken over time. For example, if you are trying to capture how animals move through an area or what they do during different seasons.

Fast Trigger Speed: The Camojojo Trace has a trigger speed of 0.2 seconds. This means that once an animal enters its field of view, there will only be 0.2 seconds between entering and leaving.

Real-time video sharing: The Camojojo trace camera allows you to share your recordings with the hunter community on the app or share with friends and family while the action is ongoing.
2. Best Night Range: Bushnell CelluCORE 30 MP
The Bushnell CelluCORE 30MP trail camera has many features that make it stand out from other cameras. It's equipped with an image quality of 30 megapixels, which is higher than most other cameras in this price range. This means you can get clearer photos and videos when using this model instead of others on the market.
The night range is another thing that makes this camera special. It can take photos of nighttime activity up to 100 ft away. The trigger speed is another terrific quality. Capturing the fastest motions within 0.2 seconds.
The Bushnell CelluCORE 30MP Game Camera has a weather-resistant casing, which is great for outdoor use. The battery life is impressive, using 12 AA batteries that can last up to 6 months on fair usage. Cellular connectivity on this camera permits using two network providers, Verizon or AT&T.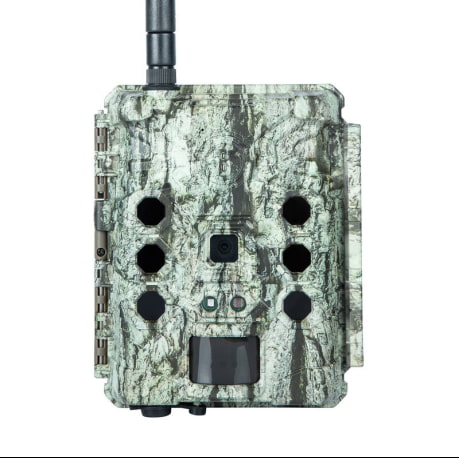 Some other features of this camera include:
View screen: the camera has a 3" dimension LCD color view screen
LED vision: The camera makes use of high output no-glow LED for the best nighttime captures
Motion-activated PIR sensors: These allow you to capture images only when something moves within range of the camera's viewfinder (so no more wasted photos).
3. Best WiFi Connectivity: Victure HC520 30MP WiFi Game Camera
The Victure HC520 WiFi Game camera has a high image quality of 30 megapixels. This 30MP sensor ensures excellent image quality, capturing crisp and detailed photos both day and night. The 40pcs infrared no glow LEDs make the night vision capabilities possible. This game Camera is designed with a durable and weather-resistant casing, ensuring it can withstand harsh outdoor conditions. The camera is water- and dustproof, making it suitable for use in various environments and weather conditions. This rugged design ensures the camera functions optimally, even in challenging conditions.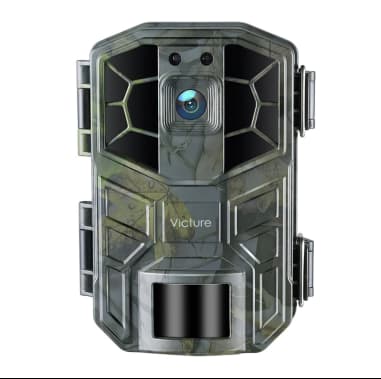 Other features include:
Video recording: The camera can record 4k Ultra HD videos at 30 frames per second, allowing users to capture high-quality footage of wildlife encounters.
WiFi connectivity: The Victure HC520 has built-in WiFi, allowing users to control the camera remotely using a smartphone or tablet. This feature lets you adjust settings, view images and videos, and receive notifications when new content is captured.
IP66 rating: The camera has a full waterproof covering That withstands rain and harsh weather conditions.
Best Wifi+Bluetooth Connectivity: Campark T85 WiFi Bluetooth Trail Camera
The Campark T85 WiFi Bluetooth Game Camera is a high-performance, feature-rich camera designed for hunting, wildlife observation, and security purposes. This game camera offers impressive image quality, WiFi and Bluetooth connectivity, and many other advanced features, making it a top choice for outdoor enthusiasts and professionals. With the Campark T85, you can capture stunning images and videos, monitor wildlife movement, and control the camera remotely using your smartphone or tablet. The camera uses a 36 pcs IR LED no glow night flash to capture nighttime photos with a detection range of 64 ft. It has a 2.3" color TFT LED viewing screen on the device. In addition, the camera has a very high video resolution quality of 1296 giving one of the clearest high definition video qualities possible.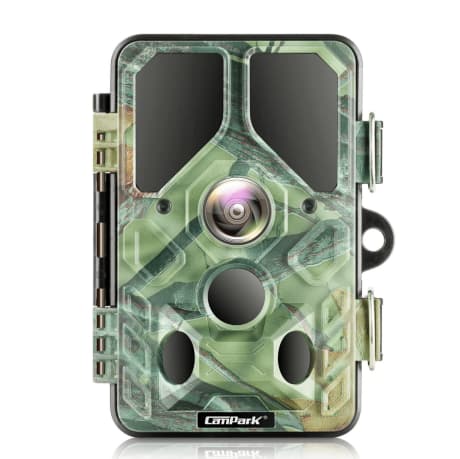 The features of the Campark T85 WiFi Bluetooth Game Camera include:
WiFi and Bluetooth Connectivity: With built-in WiFi and Bluetooth, you can easily connect the camera to your smartphone or tablet and control it remotely, view live feeds, and download images and Videos
High-Resolution Image Quality: The camera captures detailed images with a resolution of 20MP, ensuring that your wildlife photos are sharp and vibrant
Night Vision Capabilities: The camera has an advanced infrared LED flash and a no-glow flash system, ensuring you capture clear images and videos at night without disturbing wildlife
Wide Detection Range: The camera has a detection range of up to 65 feet, allowing you to monitor a large area easily
Fast Trigger Speed: With a trigger speed of just 0.3 seconds, the Campark T85 is quick to capture images and videos as soon as it detects movement.
Despite the numerous advantages of wireless trail cameras, it is important to recognize and address the potential concerns surrounding privacy and ethics. As these devices become more sophisticated and widespread, their use should be governed by a clear set of guidelines to ensure that they are employed responsibly and with respect for wildlife and property rights. By fostering open dialogue and collaboration among stakeholders, we can ensure that the benefits of this incredible technology are maximized while minimizing any negative consequences.
Looking ahead, we can expect continued innovation in the wireless trail camera industry, with even more advanced features, improved image quality, and increased battery life. The integration of artificial intelligence and machine learning algorithms could further enhance the capabilities of these devices, allowing for real-time species identification, behavioral analysis, and predictive modeling. Additionally, the ongoing development of 5G networks could enable even faster and more reliable data transmission, further expanding the possibilities for remote wildlife monitoring and research.
In the face of global environmental challenges, such as climate change and habitat loss, wireless trail cameras represent a valuable tool for understanding and conserving our planet's diverse ecosystems. By enabling us to observe and document wildlife in a non-invasive manner, these devices play a crucial role in informing conservation strategies, raising public awareness, and inspiring a deeper appreciation for the natural world.
Ultimately, the widespread adoption of wireless trail cameras serves as a testament to the power of technology to drive positive change and deepen our connection with the environment.
FAQs
Are wireless game cameras worth it?
Yes, wireless game cameras are worth it. One of the main benefits of wireless game cameras is that they allow you to view and download images and videos remotely using a smartphone or computer. Wireless cameras can also be useful if you want to monitor multiple cameras at once or if you want to receive real-time updates on animal activity in the area.
When deciding whether a wireless trail camera is worth it, consider your budget, the distance between it and your Wi-Fi network or cellular coverage area, and how often you plan to check the camera. If the convenience of remote viewing and real-time updates is essential to you, and you are willing to invest in a higher-end camera, and a data plan, then a wireless trail camera may be a good choice.
Do wireless game cameras require a monthly subscription?
Yes, wireless game cameras require a monthly subscription to a cellular network provider to transmit the footage to the user. The cost of the subscription varies depending on the provider and the amount of data used.
What is the difference between a WiFi camera and a cellular camera?
A wifi game camera uses wifi signals to send photos and videos, while a cellular game camera uses a cellular network to send data. Wifi game cameras typically require a wifi connection to operate and send images. In contrast, cellular game cameras require an activated SIM card to send images over a cellular network. Both types of cameras eliminate the need for regular trips to the camera. However, cellular cameras require a data plan and can be more expensive than wifi cameras.
Leave a Reply
Your email address will not be published.Required fields are marked. *