Cheap Cellular Trail Camera Plan
By Matthew |
17
May 2023 |
0
Comments
You will want to find the best cellular trail camera plans you can integrate for your cell cam, which is what we will look at today.
Using a cellular trail camera with an active data plan, you can remotely access the images and videos captured by your from your phone, which is particularly useful if you want to check on the camera's activity without physically going to the camera location.
On average, the cheapest cellular trail camera pan can range from a minimum of $5 to $60 a month. These plans can depend on the number of cameras connected to your plan and the charges for data usage. Before settling on a particular plan, multiple factors must be considered, such as the cost of service providers and more.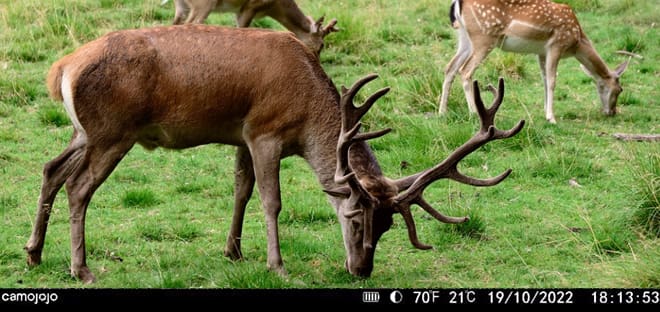 Why You Need a Cellular Trail Camera Data Plan
Footage Transmission
Access to captured photos and videos from the comfort of your connected device is one of the main reasons to own a trail camera. For the camera to facilitate this service, there must be a network connection to your trail camera.
Cellular trail camera plans will vary from different service providers on how much they charge to transmit captured footage. Look for Verizon or AT&T trail cam cellular plans that you can afford.
Access To Cloud Storage
Cellular trail cameras have multiple features; some need a data plan for the best user experience. The pictures captured by the camera are sent to cloud storage for the user to access at any time. Footage transmission from the cell camera to the cloud is only effective when the camera has a data plan.
Some brands, such as Camojojo, have incorporated cloud storage into their plan, offering a full year of access to captured footage at no additional costs. There will be minimum storage use on the trail camera and connected device.
Additional Perks
Other than footage transmission and access to cloud service, there other many additional perks of having a data plan for trail cameras. Features such as Built-in AI come in handy when recognizing, sorting, and filtering species captured by the camera.
Other brands can change camera settings remotely and apply to them instantly. With the advancement of technology in the trail camera industry, some trail cameras can download updates and install them without the need to manually do it as they were in the past.
There are multiple great deals for cellular game camera plans; below are seven of the most popular plans in the market.
1. Cheapest data plan - Camojojo
Camojojo has a clear advantage over competing services when it comes to video data plans, allowing users to receive and view all the videos in addition to photos without exceeding your allotment.
Camojojo not only has the cheapest AT&T cellular trail camera plan for $4.99 per month, but also the most affordable cellular packages for $11.99 per month, which include unlimited video and photo capture by your cell camera.
There are three main packages: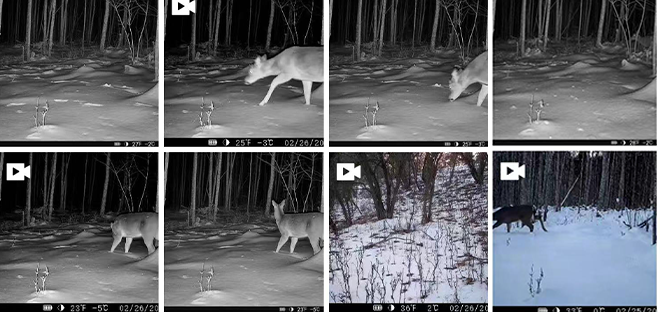 Basic package
The most affordable cellular plan for trail camera, the Basic package, will be your best choice if you only need to capture occasional footage and can get by with a small amount of data. The data plan package costs $4.99 per month and includes the following features:
300 pics/videos per month
365 days of cloud storage that allows you to store all your footage on it.
The yearly package costs $54.99, which gives you a better deal and a great discount. It also covers 300 pics/videos and a full year of cloud storage
Elite package:
Camojojo also offers an Elite package for only $7.99 based on the number of videos and photos you have. With this package, you get:
800 pics/videos per month
10 HD per month
10 minutes live stream per month, and
365 days of cloud storage
The annual Elite package goes for $84.99 a month. It gives the same benefits as the monthly package with 120 HD per month.
Premium package:
The final Camojojo trail camera cellular plan is the Premium package, which is the best choice you can get. It goes for $11.99 a month and includes:
Unlimited pics/videos every month
20 HD per month
20 minutes live stream each month, and
365 days of cloud storage
The yearly Premium package is $119.99, a steal and what makes this the cheapest cellular trail camera plan. It includes 240 HD per month and all the other benefits from the monthly Premium package.
Camojojo also has an Add-On Package that covers two packages, the HD and Live Package. The HD package costs $4.99 and includes 100 HD pcs/videos. The Live package is $7.99 and features 60 minutes of live streaming. Both add-on packages are available for all your devices.
2. Cheap data plan for multiple cameras - Moultrie Mobile
Moultrie Mobile offers several trail cam cellular plans for their cell cams. There are two payment options in all their plans: monthly or yearly. You get a 40% discount if you buy the annual plan, and you can change the plan whenever you need without a cancellation fee. Their devices will connect to either AT&T or Verizon.
The Standard plan costs $9.99 per camera for a month and $8.99 each month for an annual subscription. The plan covers the following:
1000 photos per month
10 videos each per month
The plan is flexible as you can pay an additional $4.99 for 500 and $1 for additional 50 videos.
It also has an Unlimited plan that costs $16.99 per month and $12.99 monthly for an annual subscription. This package features:
Unlimited photos per month
50 videos each month.
If you are setting up multiple cameras, the Pro Series Unlimited package is the best plan, as it costs $34.99 for the first camera and an additional $7.99 per camera. With this plan, you get the same coverage as the Unlimited plan. However, you will save better using the Pro Series Unlimited plan with four cameras or more.

3. Affordale data plan - Spypoint
Spypoint has some of the best AT&T trail camera plans. It has a transmission plan that gets you 100 free photos. You can get this plan for the whole year, with 100 pictures a month, at no extra cost.
The Basic transmission plan goes for $5 a month, which gets you 250 photos per month. The annual Basic transmission plan is $48. It gets you 20% off and is a smarter option if you want to save money.
The Standard package goes for $10 per month. With this package, you get 1,000 photos. The annual plan gives you 30% off at $7 a month.
Their most popular package is the Premium package, which gives you unlimited photos. It goes for $15 a month, with a 33% off annual discount. That makes the yearly package at only $10 a month.
Spypoint also has a Full-HD photo package that lets you pick the pictures you want, and the company will send them to your app in Full-HD. It saves you the hassle of retrieving your footage manually from the hunting area. This package charges $5 for every 50 full-HD photos, and you can decide how many pictures you want.
You can also request 15-second full-HD (1080p) videos. These are also sent directly to your app. You can get a free starter package which allows you to send 5 HD videos for free. This will be credited when you activate your FLEX account. You can also get 20 videos for only $5 without limits.
The Spypoint Insiders club is an exclusive club that gives you benefits. You can become a member by purchasing a yearly membership at only $99.99 to access these benefits. For example, you get 20% off your HD photo and video refills. It also offers 50 HD photos for free every year.
The club's transmission package gives you 250 free regular photos all year. The Standard package charges $8 a month and $5.60 per month for the annual fee and gives you 1,000 photos. The Premium transmission package goes for $12 a month, with the annual fee being $8 a month for unlimited photos.
Other Effective-cost cellular trail camera data plans:
Spartan
Spartan has incredible cellular trail camera plans. They even have a shared data plan allowing you to distribute it through all your cameras. The data plans are as below:
For the 1 month plan, you get:

$15.99, which gives 500 MB of shared data. It supports up to two cameras
$22.99 gives 1 GB of shared data, supporting up to 4 cameras
$32.99, 2 GB of shared data, supports up to 9 cameras.

The 3-month plan covers:

$35.99, offers1 GB and supports up to 2 cameras
$64.99, 3 GB, supports up to 4 cameras

The 6-month plan goes for $109.99 and gives 6 GB over the 6-month duration. This plan supports up to 9 cameras.
Spartan also has a 12-month plan that goes for $199.99, gives 12 GB, and supports up to 9 cameras.
You will have to add an extra $5 per month for every additional camera. So, if you have more cameras, you would get charged $5 for each additional camera for the monthly plan, $15 for an additional camera for the 3-month plan, $30 for the 6-month plan, and $60 for the yearly plan. The additional camera price is included during the initial purchase.
Spartan cameras support both AT&T and Verizon SIM cards, although these are not included, and you will have to buy them on the side. The data plans also cover U.S Cellular, Sprint, and Cellcom (SIM card purchase charges are not included.)
Bushnell
This is one of the most affordable cellular trail camera plans. It is even better as you get the first 30 days free. Bushnell offers two monthly plan packages based on your cellular camera usage.
The last two features only work with the Bushnell CelluCORE 30 and IMPULSE cameras.
The first one goes for only $9.99 per month. With this package, you get:

Up to 2,000 photos
2,000 monthly thumbnails
10 high-resolution images per month
5 video downloads.

The other is the Unlimited plan, which goes for $14.99. It offers:

Unlimited photos
Unlimited monthly thumbnails
High resolution images, and
Monthly video downloads.
Bushnell cameras work with both AT&T and Verizon lines. The price for the line is not covered in the camera price as you will have to buy it separately. You can stop your subscription at any time or change your data plan easily through your phone.
Covert
Covert has multiple data plan options supported by AT&T, Verizon, and LoRa. They even offer international data plans on some of their cameras. Their prices are slightly higher than all the others, and they have monthly, quarterly, and annual cellular trail camera data plans.
Covert also offers shared plans, as long as all your cameras share the same carrier. The prices for each additional camera are separate.
For the monthly plan, each new line/device goes for $5. The monthly data plans offer:
$4.99 for 100 photos
$7.99 for 1,000 photos
$9.99 for 5,000 photos
$14.99 for 10,000 photos
$19.99 for 20,000 photos
Quarterly plans are even more expensive, but increase the number of pictures you get. You will have to pay an additional $15 to add a line with this plan. The plans include:
$14.99 for 400 pictures
$19.99 for 3,500 pictures
$24.99 for 12,500
$49.99 for 50,000 pictures
$59.97 for unlimited pictures
With the yearly plan, you have to pay $60 for an additional device. The prices you get are:
1,500 pictures for $59.99
15,000 pictures for $74.99
30,000 pictures for $89.99
50,000 pictures for $99.99
125,000 pictures for $149.99
500,000 pictures for $424.99
1,000,000 pictures for $849.99
Unlimited pictures for $239.99
Stealth Cam
The cellular game camera plans Stealth Cam offers are some of the most affordable on our list. The plans are available per month, or you can opt to pay an annual fee. The number of pictures and videos you send will depend on the camera you use.
Users get the first 30 days' plans for free. You will have to pay the subscription fee afterward. All the plans come with free photo storage for 1 year. They also have a $0.10 overage charge for every MB. Below are the options for each of the three cameras:
The Stealth Cam Fusion and Muddy Manifest share the same data plans, which offer:
$5- 50 MB, 600 photos
$10- 100 MB, 2,000 photos
$20 for unlimited photos
$50 gives you the Bundle Pro option. It covers 3 cameras and 36,000 photos. You will have to pay an additional $5 for each added camera.
The annual plans offer a 20% discount for the same coverage.
Stealth Cam WXA/WXV has a slightly different monthly plan:
$5 for 50 MB or 625 photos
$10 for 100 MB or 1,250 photos
$14 for 500 MB or 6,250 photos
$20 for 1 GB or 12,500 photos
$60 for 5 GB or 62,500 photos.
Stealth Cam also has an Elite Hunter Plan for $5 per month. The plan gives you 2 years' worth of cloud storage, and the app automatically filters turkey, bucks, hogs, and does. It also has security monitoring that sends notifications to your device if an unauthorized account tried to use your plan or if someone other than you tried to activate the camera.
Why Choose Camojojo Trail Camera
The Camojojo data plans are the best cellular trail camera plans I have come across. Their offers run as low as $5 and give you more pictures and videos than other cameras at a fairer price. The Add-On package gives you an even better offer and works with all devices.
Data purchasing is also more straightforward, and you can cancel your subscription anytime. Unlike other trail cameras, Camojojo has an in-built SIM card with each game camera, so you don't have to purchase another one, saving you money.
FAQs
Do You Need A Data Plan For Cell Trail Camera?
All cellular trail cameras need some type of data plan to connect to the wireless network and become active. This is the same as how a phone works, as you must register to a network using a Sim Card.
There are two ways to get a data plan for a trail camera. The first main way is to purchase a plan through the trail camera's manufacturer, which offers better deals than the cellular service providers. If you opt to purchase a plan from a cell services provider, the two main active provider plan costs are as follows. Verizon trail camera plans start from $5, providing 200 base images, while AT&T trail camera plans start from the same price range and offer 200 base images. It would be better to settle for the provider with the strongest signal in your area.
How Much Data Does a Trail Camera Use?
For each thumbnail sent of 640X480, it consumes an average of 50KB. This is the standard setting in most trail cameras, and a higher resolution image thumbnail of 1280X960 will consume 200KB. The highest resolution pictures a trail camera can usually capture average around 2MB. Similar to photos, the higher the video quality a trail camera transmits, the more data it will consume. When purchasing a data plan, investigate the number of images captured in a month to select a package that fits your needs.
What Are The Cheapest Trail Camera Plans?
The cheapest trail camera data plan in the market is $4.99 per month. Only a few trail companies offer these packages, and it greatly varies on what is included in them. Camojojo's basic plan offers more than others with a similar price range, incorporating 300 pictures/videos and a year's worth of cloud storage.
You May Like
Leave a Reply
Your email address will not be published.Required fields are marked. *